Triple Threat Tuesday with Mama Michelle
Tue. Nov 21, 2023 7:30pm - 9:15pm CST
Event Description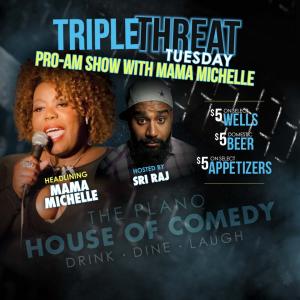 Hosted By:
Featuring:


Kevin Deanda


Lucia Hardaway


Aiden Fitzgerald


Fred T


Alberta the Exception


Barry Whitewater


Mama Michelle - Headliner


**2 menu item minimum in the showroom per-person**
Early Show 16+/Late Show 18+
Please check in at least 15 minutes prior to showtime or your tickets may be sold, (only in case of a complete sellout). If your group is 4 or more please arrive 30min prior to showtime or your group may be broken up to seats available.
Service fees and tax to be applied in cart. Groups of 6 or more are subject to a 20% automatic gratuity charge. Performer may change without notice.
Tickets are non-refundable after purchase. Performer may change without notice.
Show Description:
Professional and amateur comedians take the stage for a fun night of comedy! From the cream of the crop, and to those who might flop - each show is unique! 
You never know who's going to show up and perform on a show like this. You could be witnessing the beginning of the next Dave Chapelle, Amy Schumer, or Kevin Hart. 
Plus, our food and drink specials don't hurt either. 
About Mama Michelle:
Mama Michelle brings the laughter to a wide spectrum of comedy club goers. Her take on politics, finances, and family is uniquely hilarious. She can be seen throughout the country sharing her quick wit and magnetic personality.